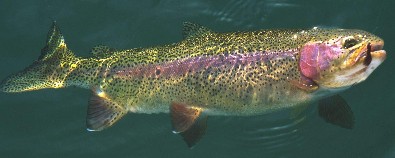 You're a Rainbow Trout!
Believing strongly in the equality of all races and in gay rights,you are a true egalitarian. These stances have made you a target amongst some groups of people, but it's all in a day's work for you. You try not to fall for their schemes hook, line, and sinker, but sometimes it's unavoidable. Some where over you, bluebirds fly.
Take the Animal'>http://bluepyramid.org/ia/aquiz.htm">Animal Quiz at the blue/'>http://bluepyramid.org">Blue Pyramid.